WARCLOUD TITAN OF LANDOFBENGALS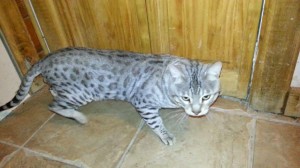 Titan is our newest stud and comes to us all the way up in Flint, Michigan. He is our first silver Bengal stud and will make a great addition to our family of silver Bengals. Like his owner, he enjoys flying and prefers United First Class. He is easily the largest of our Bengals and we look forward to many beautiful litters from him.
CAMELOTTASPOTS KINGDAVID (PHANTOM)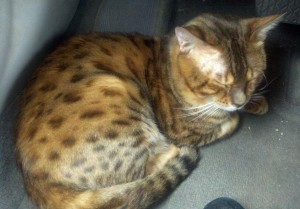 Phantom joined our family in 2012. He was purchased from a breeder in Iowa and made the trip down to live in Oklahoma. His previous home was filled with kids and rabbits. Now he has nothing to worry about except beautiful Bengal cats. Phantom spends most of his time taking long cat naps or finding new places to enjoy his naps. He is very vocal about letting people know when dinner is supposed to be served. While never shown, his father and brother are both Regional Winner Quadruple-Grand-Champions. With a coat like his and the beautiful markings, it's easy to see why.
JustPink C.K. Dexter
Dexter is our incredibly loving stud. None of us have the heart to tell him that he is not a dog. So he loves to play fetch and tries to be man's best friend. He will watch football games all day long if someone will throw his favorite toy for him to retrieve while the game is going on. He also loves watching NASCAR. His favorite driver is Jimmie Johnson, just like his owner. Dexter is also very talkative and loves to discuss his plans for the day before his owner runs off to work. He also eats his cat food like it was a Scooby-snack.