Buccaneer Pokerface Maven
Maven is the sweetest cat in the world. She was purchased after viewing her YouTube channel. True to her namesake, she is a great poker player. She prefers to be able to turn over her own cards and she believes all the chips on the table are hers. She spends most of her time collecting her "winnings" and counting to make sure she doesn't get cheated.
She demands constant loving and is always willing to be apart of whatever activities the nearby humans are involved in. She always inspects the faucet temperature before allowing her owner to brush his teeth. As with any owner a YouTube channel, she is well versed in using the computer. She prefers to sit on her owner's lap and move the mouse while he tries to type. She is also very good at using the delete key on important files.
JustPink Autumn Meow Meow
Autumn  (called Meow Meow around the house) has taken on a new life as the head female in a house with four boys (the human kind, not the feline kind.) She has her own room full of toys and furniture where she can sit and look down on the humans who serve her. When not watching out for indoor football players, she sits on her owners lap and enjoys watching old movies on NetFlix. She also prefers to obtain her own food off the kitchen counter and doesn't believe she needs to ask for permission.
LandOfBengals Annabel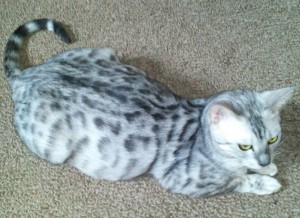 Annabel is one of two kittens we have kept out of Maven and Dexter. She is a silver spotted female with a very lovable and adoring personality. She demands constant attention from her owner, like any good Bengal cat should. She loves to play in the water chase yearn while her owner attempts to sew or crochet. Given time, she may master the art of making her own blankets… or balls of yarn.
LandOfBengals Addison
Addison is a brown marble kept out of a litter from Maven and Dexter. She is very sweet and loving. She can never get enough attention and loves anything involving contact with humans. She is very tiny and after her first litter, we may not re-breed her. If you are interested in an adult cat as a pet in a forever home, please contact us about possibly adopting Addison this summer.