Our beautiful kittens in average are $1,800. They will be ready to go home with their forever families around their 14-16 weeks of age.
They will go home with:
The papers for you to register them in TICA (breeder's slip),
Agreement with 2 years of health warranty,
Vets booklet.
2 round of vaccines,
2 deworms,
Health certificate before they leave the cattery,
Spay/neuter,
ID microchip,
Goodie bag,
Raw food (not in all the cases, all depends on how far the kitten is going),
E-book,
1 month of free insurance with no waiting period, and
Life time support.
---
N-Litter 2021.
EARLY GENERATION
Faith (Dam) 

F1

  +      Edward (Sire)
 
Born: 12/31/2021      G2 kittens
Available: 1 seal mink male and 1 brown male.
Oops (Oopsy): Seal mink. Male
Omy: Brown. Male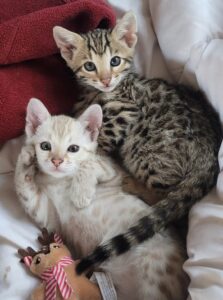 ---
P-Litter 2022. 
Kiki (Dam)    +      Odin (Sire)

Born: 01/07/22
Available: 4 males (2 snows, 1 silver and 1 brown) and 2 females (1 snow, 1 silver) . 
Pepper: Silver. Male
Parsnip: Seal lynx. Male
---
Q-Litter 2022. 
Freya (Dam)    +      Thor (Sire)

Born: 01/13/22
Available: 3 males (2 snows, 1 brown) and 3 females (3 snows)
Quail: Seal lynx. Possible double Abp. Male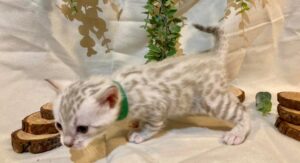 Queso: Brown. Male
Q: Seal lynx. Possible double Abp. Male
Quake: Seal lynx. Possible double Abp. Female
Queen: Seal lynx. Possible double Abp. Female
Quartz: Seal lynx. Possible double Abp. Female 
---