THESE ARE OUR HANDSOME SIRES
EDWARD
(Cats Ben Edward Of Landofbengals/ID)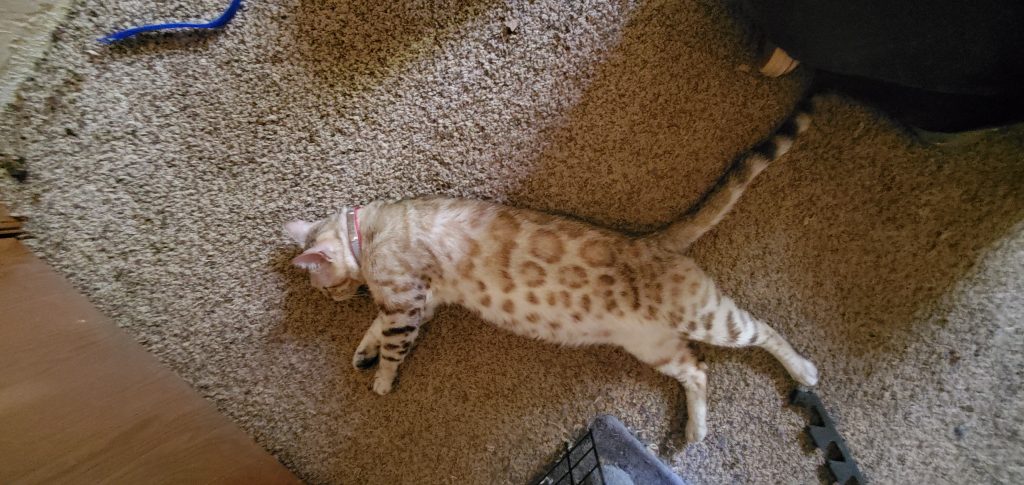 Edward is an absolute sweet boy but clearly the alpha male here. Edward comes to us all the way from the Ukraine (Europe). He is incredibly shy around humans, but has no problem showing off for the ladies. His kittens from Tuesday and Thursday are beautiful. They inherit their soft coat from him. He is a prized asset here at Land of Bengals.
He has great spots and head and type!
TICA Registered. Born 03/16/18.
Color tested: Seal Mink Spotted Tabby cb/cs.
Tested:   PRA & PK Def: N/N.    FIV: Negative     HCM: Negative
---
TITAN JR.
(LandOfBengals Titan Jr)
Named after his father, and like his father he is a beautiful muscular and wild silver spotted male. Titan Jr is obviously the largest cat of the T-litter. He is very vocal and loves to talk. He also enjoys long walks around the pond… as long as he gets to cuddle and nap when it's over. He plays well with dogs and loves watching TV. We have high expectation for him as breeders and we look forward to many beautiful litters from him.
TICA Registered. Born 03/15/18.
Color: Black Silver Spotted Tabby.
Tested:   PRA & PK Def: N/N.    FIV: Negative     HCM: Negative
---
TITUS
(Cajunpride Titus of Landofbengals)
Titus comes to us from the bayous of Louisiana and is an avid fan of LSU football. He has bred and sired many bangles in deep south and now resides in (OSU) Cowboy Country. While  shy in person, he has a way with the ladies. His kittens have brought out his beautiful  brown colors and his silver kittens have been nicely glitters. All have been sweet and fun and cuddly. We wonder where they get that from?
TICA Registered. Born 03/15/17.
Color: Brown Black Spotted Tabby.
Tested:   PRA & PK Def: N/N.    FIV: Negative