FAITH – F1
(Tecspot Faith of LandOfBengals)
When words can't describe something. You just have to have faith. This is especially true of our newest family member, Faith. She is an F1 and comes to us from Ohio. As an F1, her mother is a beautiful Bengal cat and her father is a full blood Asian Leopard Cat.
Faith might be technically +50% wild animal, but at the same time she is 100% sweet and loving. Often times she is like a shadow and follows me around the house constantly. She is a spoiled kid with all the toys in the world. Her favorite place to nap is on the highest perch on the cat tree… or curled up on our shoulders. She had give us 3 tiny litters.
TICA Registered. Born 08/04/20.
Color: Brown Black Spotted Tabby.
Genetics: She carries Apb, d, Cb and 1 glitter gen.
Tested:   PRA & PK Def: N/N.    FIV: Negative     HCM: Normal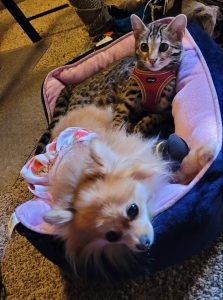 _______________________________________________________
  CALIFRAGILISTICEXPIALIDOCIUOS – KALI for short – G2
(LandOfBengals Kali)
Kali's personality is developing… for now we can say that under that "I am going to kill you in your sleep look" it is a wonder and sweet kitten. She is a G2 and is our keeper from Faith.
She follows her momma everywhere and try to do everything she does, does not matter what.
We look forward to the future of our early generation breeding program, her first litter will be in 2024.
TICA Registered. Born 02/11/23.
Color: Seal Mink Spotted Tabby.
Genetics: Pending.
Tested:   PRA & PK Def: Pending.    FIV: Negative     HCM: Pending